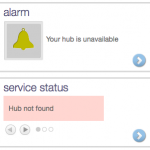 For most, Tuesday's Iris outage is over with some experiencing a few minor, lingering issues.  IrisByLowes has released an impact statement with some very helpful troubleshooting information for anyone who is still experiencing issues with their system.
On March 8th at approximately 3:00 PM EST the Iris platform experienced a database failure due to a process issue which has since been corrected.

As a result, the database was restored from information saved up through March 7th at 10:00 AM EST. This restore completed around 4:00PM EST on March 8th.

Due to the restoration of data and the subsequent platform restart required, the following issues arose for some users:

---

ISSUE: Any change made to your Iris system after March 7th around 10:00 AM EST until March 8th 4:00PM EST was lost. This includes, for example, added devices, new or changed rules, settings changes made to services like Security.

RESOLUTION: We are working to restore any accounts which were added in this timeframe along with their hubs and devices. This is only possible for accounts which haven't been re-created by the user since the 8th. This includes those who migrated from the previous version of Iris. This is expected to be done during the day of March 10th. For those existing users who added or modified a device, rule, scene, person, or changed a setting on a Service these changes will need to be manually redone.

---

ISSUE: Several customers had their settings for Services (e.g. Security or Climate) return to default settings. Symptoms of this would be your thermostat changing mode to Auto with a default schedule in place or the entry and exit delay of your Alarm returning to 15 seconds.

RESOLUTION: While we continue to investigate restoring your custom settings automatically there is not ETA on this and it is recommended you manually reconfigure your services to your preferences.

---

ISSUE: Rules were not able to be edited from the mobile applications.

RESOLUTION: This was resolved for most all rules on March 9th. The resolution for fixing the remaining rules is expected on March 10th.

---

ISSUE: For some customers default rules for Smart Buttons, KeyFobs, and Pendants were recreated. This did not remove any existing rules.

RESOLUTION: These extraneous rule were removed on March 9th.

---

ISSUE: Pin codes for most users did not restore correctly on March 8th. This means that most users pin codes will not work for the keypad or door locks. Also if you had people in your access list for door locks it is likely they were removed.

RESOLUTION: Pin codes have been restored as of morning of March 10th. We are working toward restoring the access lists for your locks once the pin codes are restored however there is not specific ETA. It is suggested you manually recreate your Access list for your locks. You may also fix your pin code manually by changing it from the side menu in the application.

---

ISSUE: There are reports of some devices for a moderate number of users showing as online but are not controllable and do not respond to a rule firing or a schedule.

RESOLUTION: This is being investigated and is targeted to be resolved on March 10th.

---

If you are experiencing an issue not listed here, please send a detailed email to IrisSupport@lowes.com with what you are seeing. Please know that while we may not respond we are monitoring each email and are working hard to address all issues which are reported.

We hope this information is helpful and we appreciate your patience,

The Iris Team
We have confirmed that stability has again been achieved.  Please attempt the recommended troubleshooting steps before reaching out to support for assistance.  This has been a rough week for everyone involved and we want to extend our sincere appreciation for all of the hard work and long hours that the Iris Team must have put in to recovering from this unfortunate incident.
Thank you!