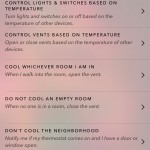 If you noticed a short outage today you are not alone, and with it comes good news!  The folks at Lowes were busy pushing our a major platform in preparation of the release of version 1.7. The apps have not been released to the app store just yet, but you do not have to wait!
There are new rules available right now, no app update required!
Climate:
Control Fans Based on Temperature
Control Lights and Switches Based on Temperature
Control Vents Based on Temperature
Monitor Room Temperature
Energy:
Monitor Smart Plug Energy Usage
The apps are due out in their respective app stores with Android available first, and Apple iOS within 1-2 weeks following app store approval.
This is just the tip of the iceberg! Please inform us of any more newly discovered changes or new features!